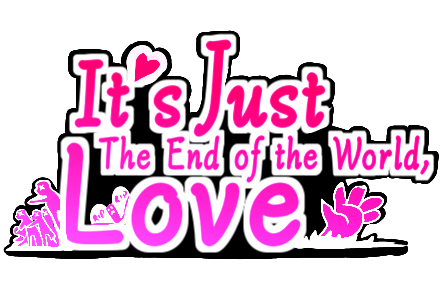 It's Just The End of the World, Love
About:
Girlfriends, Petra Lorayne and Cecelia Jacqui, have been trapped in their home ever since the zombie apocalypse began! Petra has grown bored and stir-crazy as the days pass by, and Cecelia can't help but pity her. Petra's girlfriend then comes up with a wonderful idea: "Let's have a Halloween party."
About 10 minutes long
1 ending
Includes partial voice acting
Controls:
Arrow Keys - Move

Enter Key - Interact/Proceed Dialouge
Esc Key - Open Menu

Shift + Arrow Keys - Dash
Credits:
[Art and Writing]
Bill t'cult
[Voice Acting]
Cecelia -
Jasmine "Katy133" Osler
Petra -
Emma Breezy
[Music]
All from Stefan Großmann's 33 free tracks
https://stefangrossmann.bandcamp.com/
https://www.youtube.com/user/JustMusicV2012/about
https://soundcloud.com/stefan-grossmann-1/albums
CC BY 3.0
[Sound Effects]
Zapsplat.com
And RPGMAKER MV RTP

[Plugins]
Yanfly
Moghunter
SumRndmDde
Hudell
Shaz
Dreadwing93


Author Note:

Hey, hey, this is my first game ever made with RPGMaker MV! This game was made for the Spooktober Jam in less than a month and is admittedly really... really... short. It's nowhere close to being some complex story, and it really is just a pile of fluff I had fun writing.

As such, it may be a little unpolished! Thank you if you play my game <3
Install instructions
Just extract the file~!
Download
Download
It's Just The End of the World Love.zip
489 MB